15-05-14
And we're back! Reykjavik Arts Festival here we come!
So, Duo Harpverk had a small hiatus so that Katie could have her little bundle of joy. Welcome Anders Buckley Pedersen to the world! Here he is at our first rehearsal for our next concert!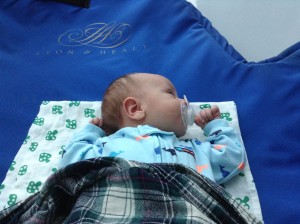 Our next concert, on May 26 at 20:00, is an exciting collaboration between the Icelandic Flute Choir and Duo Harpverk on the Reykjavik Arts Festival. For more information check here. The program is…
A. Liadov : Muzikalnaya tabakerka Op . 32 for flute ensemble , harp , and glockenspiel, (Icelandic premiere)
James Romig: Dorsia 2a for harp and vibraphone
Barbara Kaszuba : Leirhnjúkur for flute ensemble, premiere
-Interval-
Tan Dun : In Distance for piccolo – flute, harp and bass drum
Gunnar Andreas Kristinsson : A new piece for flute ensemble premiere.
Jesper Pedersen :  Flaarpel  for flute ensemble, harp and percussion,premiere.